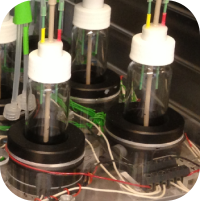 Bacteria are incredibly diverse and inhabit almost every accessible place on this planet. They are essential symbionts of plants and animals, but also formidable pathogens. Most of our work so far has been theoretical or on evolution of viruses and we only recently got into bacterial evolution. In one project, we have performed experimental evolution to study the emergence of drug resistance. In another project, we are developing tools to analyze and visualize bacterial pan-genomes.
Drug resistance evolution in a morbidostat
Pathogenic bacteria are increasingly resistant against many antibiotics we use to treat infections and resistance is developing into a serious complication of modern medicine. Matthias Willmann and Silke Peter from the Tübingen medical school and our group teamed up to study evolution of colistin resistance in clinical isolates of Pseudomonas aeruginosa using a morbidostat. This computer controlled continuous culture device was designed by Erdal Toprak and colleagues in Roy Kishony's lab. The morbidostat adjust drug concentrations such that the bugs struggle but grow. Over days and weeks, the bacteria become resistant while we can take samples and sequence the population to track the changes in their genomes. Over 2-3 weeks, all replicate cultures became resistant via mutational pathways that are reproducible, but strain dependent (Regenbogen et al, AAC, 2017).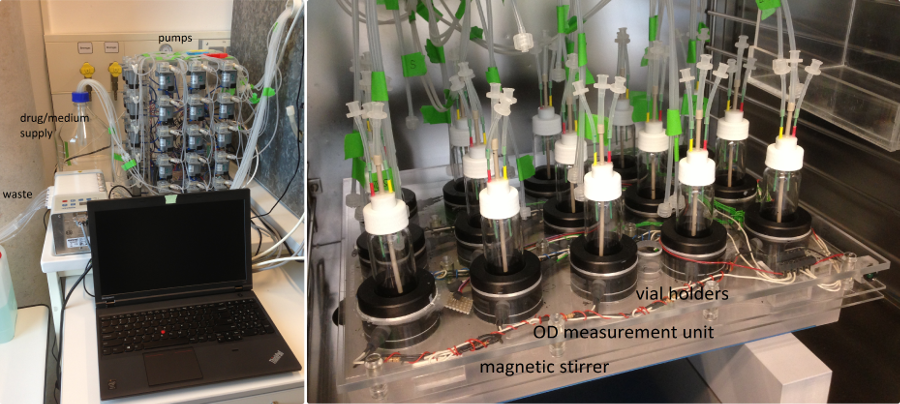 Our morbidostat set-up in Tübingen
Analysis of bacterial pan-genomes
In addition to vertical inheritance, bacteria exchange plasmids and genomic DNA horizontally. This mix of inheritance patterns make the analysis of bacterial evolution challenging and interesting. To come to grips the complexity of bacterial genomes, Wei Ding has developed a pipe line to reconstruct and visualize bacterial pan-genomes. The output of this tool is available for exploration at pangenome.ch. We are currently exploring different ways to construct, visualize, and comprehend the evolutionary laws governing bacterial diversity.
Long-read sequencing and structural variation in bacterial genomes
Long-read sequencing technologies now allow cost-effective and large scale assembly of bacterial genomes. We are using Oxford Nanopore sequencing technology to characterize structural diversity in multi-drug resistant gram negative bacteria. Nicholas Noll has a first preprint on this work up on biorxiv. We developed a number of high-throughput criteria to assess the quality of fully assembled genomes for which curated references do not exist. Using this diverse collection of closed genomes and plasmids, we demonstrate rapid movement of carbapenemase between genomic neighborhoods, sequence types, and across species boundaries with distinct patterns for different carbapenemases. Ultimately, we hope to find new ways to track the spread of bacterial resistance determinants and thereby learn about the evolutionary dynamics of adaptation through horizontal transfer.